How many people go to Egypt for vacation and return to the United States with rescue dogs, including these two Egyptian street dogs, a two-legged dog named Mazloom and his mange infected best puppy friend Mizo? Well, the folks who run the best upscale
thrift store in Atlanta
do. Second Life, an amazing Atlanta, GA nonprofit organization, sells gently used donations to help raise money for homeless pets that have been abandoned by the least compassionate of our humanity. While their Chief Smile Office, Lucky, may have passed over the rainbow late last year, his spirit lives on. Second Life is now seeking out and looking to rescue disadvantaged dogs that have been left to die on the streets of Egypt.
While on vacation earlier this month, they visited the Egyptian Society for Mercy to Animals
(ESMA)
, formed in 2007 after a vicious shooting spree of street dogs sanctioned by the Egyptian government. They found dozens of dogs in crisis, abandoned by their owners and saved from the unforgiving streets of Cairo in the midst of a political revolution. That's were Tanya and Toby found these two Egyptian street dogs, Mazloom, who only has his two front legs, and Mizo (the black dog), who was stricken with noninfectious mange. I'll let you know, if you are a dog and you've had your rabies shot, you get the fast pass through TSA and customs. You go right past the green card game and straight to US citizenship. No questions asked. That's how easy it is to become an American citizen in the puppy kingdom.
Mazloom and Mizo are best buddies who have found their way to this loving Atlanta home and are just waiting to be adopted and to be spoiled rotten by Americans with lots of love to give. Here's not
one
, but
two
videos of them playing together with their loving companionship. It makes you cry with joy over their simple pleasure.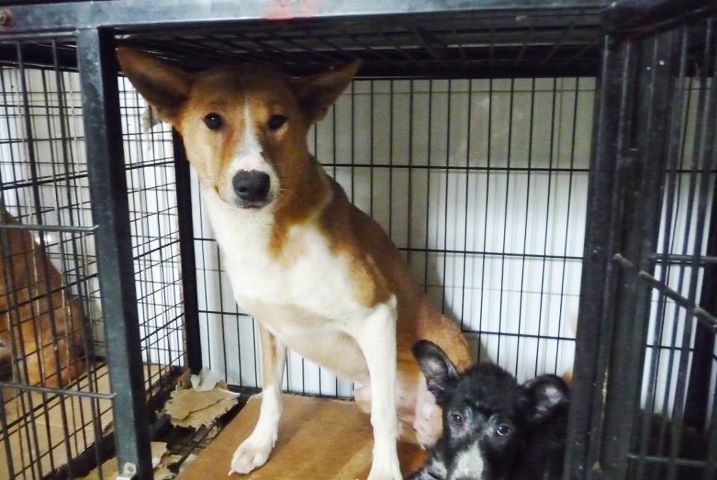 And here's a video below of Mazloom living life and walking with just his two front paws, as if that's just the way life was supposed to be. As you can see he's too confident for any assistive devices! No wheeled cart for Mazloom. It would just slow him down!
Here's another video below.
Is Egypt safe to visit in 2012? Yes. It's safe for anyone who wants to travel there to save these animals that nobody wanted but the compassionate folks at ESMA. As you can see on these videos, these creatures of God have an incredible spirit filled with love tanks the size of Georgia that are just waiting to be emptied. If this doesn't melt your heart, nothing will. In a world filled with hate and greed, it's so nice to see this simple beauty of a new beginning. Congratulations Mazloom and Mizo. You've hit the lotto jackpot and you don't even know it! What are you living for today? Spread the word and help these dogs and others find the loving homes they deserve. Twitter and Facebook this beautiful story and help Lucky and the folks at Second Life complete the happy ending for Mazloom and Mizo.
UPDATE: Mazloom has been adopted to a family in Florida. Here is his
facebook page
.